For a Better Tomorrow (1987)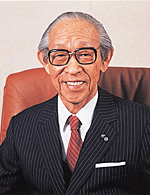 A noted political scientist once remarked that all realistic political philosophies are premised on the notion that man is inherently evil. Machiavelli's The Prince, of course, is the example par excellence, but there are many others. Plato's idea of the "philosopher-king," as developed in The Republic, and the Confucian ideal of government by the sages both, being expressly elitist, assume at the very least the people's inability to govern themselves.

Such thinkers may be brilliant, but they are wrong. Man is not evil by nature, nor is he foolish. People are weak at times and fail to follow their conscience, and too often they are lured by malign temptations, but there are few whose heart is not basically good and few who cannot follow the dictates of reason to control harmful desires.

It is true that human history can be read as a chronicle of one tragedy after another ― wars, atrocities, persecution, starvation, and more. But man has also continued to grow and progress, both materially and spiritually. Science and technology have produced security and comfort in our lives, and have given us the leeway to grow in creativity. And through the ages the great religions have helped more and more people attain peace of mind. Or think of how significantly literary and artistic masterpieces enrich our lives, and how much philosophers and thinkers have done to help us understand ourselves.

I believe that man is a free agent responsible for his own destiny. He has a choice: he can either become one with the God of love and goodness or sell his soul to Satan, the lord of evil. One choice leads to peace and happiness, while the other draws us toward chaos and self-destruction. Individually, most of us find our selves wandering somewhere between the two; in the same way, the human race as a whole now seems to stand at a crossroads between heaven and hell.

The threat of nuclear war casts a pall over the world, while military tensions, political disputes, economic friction, and North-South disparities continue to tear away at the stability in international relations. Internally, nations are constantly fighting unemployment, inflation, social or political unrest, hunger, poverty, crime, pollution, or all of these. It is appalling realize how close to the edge of disaster we are. No one can say what is going to happen to our world, even before the arrival of the third millennium. The very survival of mankind is now in the balance.

At this critical juncture in the history our civilization, we need to recover our confidence in the essential rightness of human wisdom. We must reassure ourselves that we have the capacity to bring our material and intellectual resources to bear on finding solutions to the problems confronting our world. It is always easier to rally our forces in the face of a crisis, but we must not let the sense of crisis overwhelm us with unnecessary pessimism, for that leads to despair -and immobility. Let us never lose hope for the future. Let us believe that the popular will does ultimately govern the course of human affairs, and that because it is essentially good, the will of the people will prevail and lead the world into a new and better era.

Wishful thinking is useless, and platitudes about peace are mere verbiage. What we need is action derived from concerned optimism and collective wisdom if we are to bequeath a happy, peaceful world to our children and grandchildren in the twenty-first century. It was this belief that led me to establish PHP Institute more than forty years ago. I am all too aware of the long road still ahead, but I also know that there are many individuals and groups around the world who share our ideals and are working toward similar goals. I hope the day will soon come when we can join hands with those people in a concerted effort to build a new world of peace, happiness, and prosperity.


Konosuke Matsushita
(1894-1989)
Founder, PHP Institute, Inc.
April 1987