Publishing Activities
English Books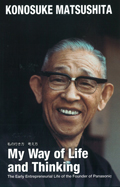 Books by Konosuke Matsushita
Konosuke Matsushita published 45 books in Japanese during his lifetime, including his autobiography. His major works on business philosophy, management, human resource development and essay collections are now available in English.


Japanese Books
With an aim toward the objective of "realizing peace, happiness, and prosperity in the world" that was proposed by Konosuke Matsushita, the PHP Institute publishes more than 50 new titles per month, in the hope of supplying as many useful books as possible to the public, covering a wide range of themes and topics, based on PHP ideas as shown below:

・Social sciences
・Business and Management
・Literary arts
・Education and Family Issues
・Light Novels
・Children's books.

Konosuke Matsushita's book entitled Michi o Hiraku ( Open the Way ) has been a bestseller since it was published in 1968 and sold more than 5 million copies so far.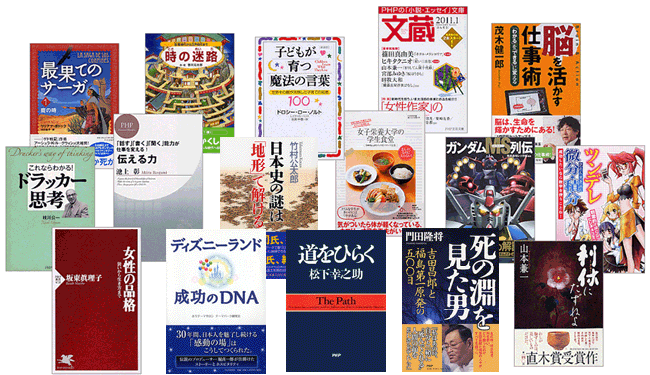 Japanese Magazines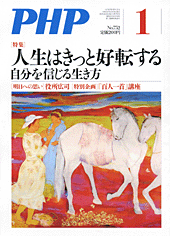 PHP
(monthly in Japanese; inaugural issue, April 1947)
Contains short essays by well-known writers, scholars, and business executives that offer insights on universal topics, such as what happiness is, how to live a fulfilling life, and how to make the people around you happy. Subjects are serious but articles are light in tone and accessible in style. The readership ranges from teenagers to seniors.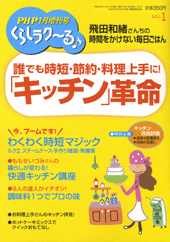 PHP Kurashi Rakuuru
(monthly in Japanese: inaugural issue, May 2009)
Launched in 2009. This lifestyle magazine for homemakers covers a wide range of topics like foods, cooking techniques, home, money and savings, human relationships and more. Articles are written by specialists with expertise. With colorful illustrations, and photos, the magazine provides know-how and ideas of life.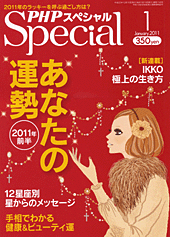 PHP Special
(monthly in Japanese; inaugural issue, August 1998)
Presents in-depth treatment of specific themes related to personal development and human relations for young women. Covers a broad range of topics including love, marriage, family life, friendship, career goals, and work. The articles based on the personal experiences of celebrities, scholars, and journalists offer a wealth of concrete and practical ideas to help young women gain greater confidence and satisfaction in their lives.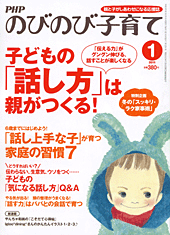 PHP Nobinobi Kosodate
(monthly in Japanese; inaugural issue, April 1986)
Contains practical and analytical substantive essays by specialists as well as firsthand accounts by PHP readers on childrearing, family education, parent-child relationships, etc. Offers suggestions and hints on how to discipline and motivate youngsters without spoiling them. Read widely by young mothers and school teachers.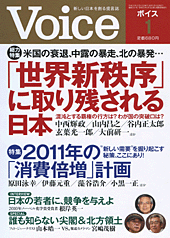 Voice
(monthly in Japanese; inaugural issue, December 1977)
An opinion journal that addresses a wide range of contemporary problems, including politics, economy, international relations, science, technology, management, and education. Voice seeks to present not only well-balanced, thought-provoking analysis and evaluations of the momentous changes in the world today but also realistic proposals for responding to these challenges.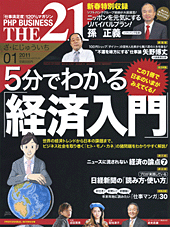 THE21
(monthly in Japanese; inaugural issue, October 1984)
Personal competence is important in business and businesspeople are continually required to upgrade their skills and information. THE21 has been meeting these demands by providing clear explanations of the latest business skills and introductions of the professional know-how of top businesspersons. Various kinds of skills that can be used instantly are introduced with visual illustrations and charts.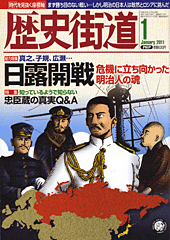 Rekishi Kaido
(monthly in Japanese; inaugural issue, April 1988)
In these times beset by major change, people have been taking a greater interest in history. Rekishi Kaido, through understanding of the histories of Japan and foreign countries, nurtures knowledge of contemporary events and takes up the psychological aspects of our predecessors' ways of thinking, providing guideposts that give us the strength to live in today's chaotic times.


Publications for Direct Sales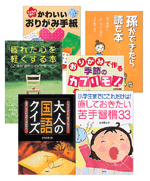 Books
Aimed at the home and workplace, these publications seek to assist readers in resolving personal problems or concerns, as well as nurturing personal growth.

●Titles for the Home Use
Directed mainly at mothers raising children, these publications provide useful knowledge related to infants and children, as well as latest information on housework plus helpful thoughts to nurture mothers' self-development.

●Titles for the Workplace
For businesspersons, these publications dispense useful ways of thinking and knowledge on business, as well as management and leadership skills.


Magazine
Shuchi
The success of Konosuke Matsushita, who founded Panasonic Corporation and nurtured it into a world-renowned company within his lifetime, was much dependent on "collective wisdom" --- gathering knowledge and insights from many others.
PHP Institute, now commemorating the 70th anniversary of its founding by Mr. Matsushita in 1946, has launched a new periodical, "Shuchi" (Japanese for "The Wisdom of the Many"). Containing interviews with leaders not only from the ranks of business, but from such varied fields as politics, society, sports, culture and others, the magazine presents examples of wisdom acquired from actual experience by those people, to provide insights to help readers make decisions in the day-to-day course of their own business.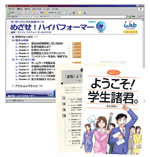 Correspondence Education & E-learning
Companies need personnel who have the training and knowledge to deal with a rapidly changing business environment, but often find traditional training methods inadequate. In response to these needs, PHP Institute offers correspondence education or training and e-learning. Presently more than 100 courses are available.
PHP's correspondence education and e-learning have earned respect for their ability to help individuals make a greater contribution to society and feel enhanced self-satisfaction.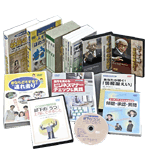 DVD Software
Training that makes use of video images is being widely utilized in business, government, schools and elsewhere. To respond to such needs as how to harness attractive images; how to instill job enthusiasm that motivates employees; fostering better ability at crisis management among staff and others, moving images have the advantage of being "visually instructive, appeal for empathy, and can be learned simultaneously as a group." PHP plans and produces useful training materials in a variety of fields.

●Level-specific training use, industry-specific training use job-specific training use, theme-specific training use, for business management and school instruction use.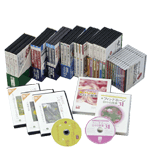 CD Software
Busy people are finding it increasingly difficult to make time to read books. Nor can many business owners make time to attend lectures. For such individuals, PHP provides audio materials that make it easier for them to learn even while they're on the go. Under the direction of top supervisors and commentators and narrators, we introduce easy-to-comprehend and practical contents. In addition to the thoughts of Konosuke Matsushita, famous authors, entrepreneurs, management consultants, scholars and others convey views in their own words. Our highly regarded CD collections include an extensive range of genres.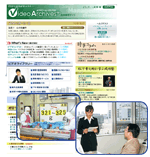 Video Archives Plus
This commercial web site, aimed at companies and organizations, enables many of the works issued by PHP on audio or video software which can be accessed via the Internet.
By functioning not only as a new tool for self-improvement and education, but also as training research reference materials for those responsible for personnel and training, it is achieving rapid popularity. The genres and number of items are nearly equivalent to offerings in PHP's DVD and CD software lineup. Well rounded membership service at an affordable annual membership fee offers many advantages to members.


Digital Contents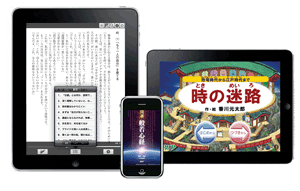 Digital Contents
PHP produces not only more than 10 titles of magazine and 50 titles of books a month, but also a wide variety of audio-visual contents. These contents are digitalized and then new contents businesses are energetically developed in the form of new media or devices as "electronic books" that are sold and distributed via "electronic bookshops" on PC or mobile phone sites.
PHP has also tied up with other firms to supply manufacturers with data for their electronic dictionaries, mobile phones and other applications.


Proprietary Rights
PHP is actively developing our own original products, not only in proprietary contents, but in a variety of fields through publishing activities. Proprietary rights business has been expanded in Japan and overseas, and our characters and contents from magazines, picture books and comics are sold or used for a wide range of products such as TV programs, movies, animations, and DVDs.
Licensing business is expanding, and PHP has sold more and more translation rights especially to Asian market.